Triathlon Training Bible: A Triathletes Book Covering The Sports Diet/Food, Techniques, Gears, Ironman Exercises & More...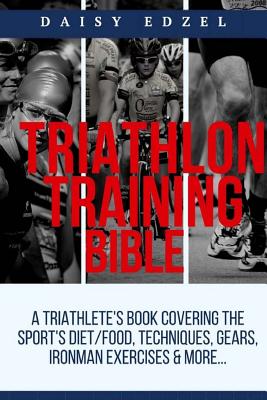 Triathlon Training Bible: A Triathletes Book Covering The Sports Diet/Food, Techniques, Gears, Ironman Exercises & More...

SLOW AND BARELY ABLE TO FINISH A RACE? RIGHT AND WRONG TRIATHLON HABITS --- AND LITTLE POINTERS THAT WILL INCREASE YOUR SPEED AND ENDURANCE Are you a beginner, or someone in intermediate level who's going to compete in a major triathlon event soon? Full or Half Iron Man perhaps? Or maybe you're someone who needs to level up his game and improve his knowledge and capabilities in the sport? Increase endurance and speed perhaps? Whatever you're goal may be, this is the one book you'll ever need! This is written by an actual, Triathlon competitor with years of experience in the discipline. You'll not only learn more, but you'll learn how to better your performance by learning techniques including exercise regimens and drills to up your performance in no time. This book will cover: intro to triathlona bit of historyswim, bike, runone of the fewwhere to start - types of races, what you need to know and where to beginchoose your distanceset your goalmanage your expectationsknow your gearsfor the swimfor the bikefor the runjargon buster - helping you understand the terms of the sport!triathlon training rules and techniquestraining rules to live bymaximize your trainingswimming technique and etiquettecompetition swimming versus triathlon swimmingimproving your techniqueskills to developtraining for endurancetraining for speedessential swim drills to masterpreparing your muscles for the swim legopen water swimfinish the swim leg strongrunning technique and how to prevent injury and run fastertraining for the run legcommon running mistakesfocusing on the correct formimportant running drills to practiceimproving your off-bike run performancecycling in a pack what to do and what not to doorganizing a group ridetraining rides and club ridesgroup cycling etiquettetransition - how to lay it out, what to bring and how to be effectiveyour checklistsetting upthe don'tsrehearseunderstanding triathlon nutrition and why it is key?how your body uses fuel in triathlonkey nutrition considerationstraining nutritionsuggested nutrition strategyracing nutritionrace day - what to look out for, how to prepare and what to expect?attend the race briefingreview the rulesreview your checklist or to-do listbefore the racerace daycommit to finishkeep goingit's you versus youtrust your training and have funand much, much more...
GRAB YOUR COPY TODAY!
Tags for: Triathlon Training Bible: A triathletes book covering the sports diet/food, techniques, gears, Ironman exercises & more
Citeste mai mult
PRP: 108.42 Lei

Acesta este Pretul Recomandat de Producator. Pretul de vanzare al produsului este afisat mai jos.
97.58Lei
Descrierea produsului

SLOW AND BARELY ABLE TO FINISH A RACE? RIGHT AND WRONG TRIATHLON HABITS --- AND LITTLE POINTERS THAT WILL INCREASE YOUR SPEED AND ENDURANCE Are you a beginner, or someone in intermediate level who's going to compete in a major triathlon event soon? Full or Half Iron Man perhaps? Or maybe you're someone who needs to level up his game and improve his knowledge and capabilities in the sport? Increase endurance and speed perhaps? Whatever you're goal may be, this is the one book you'll ever need! This is written by an actual, Triathlon competitor with years of experience in the discipline. You'll not only learn more, but you'll learn how to better your performance by learning techniques including exercise regimens and drills to up your performance in no time. This book will cover: intro to triathlona bit of historyswim, bike, runone of the fewwhere to start - types of races, what you need to know and where to beginchoose your distanceset your goalmanage your expectationsknow your gearsfor the swimfor the bikefor the runjargon buster - helping you understand the terms of the sport!triathlon training rules and techniquestraining rules to live bymaximize your trainingswimming technique and etiquettecompetition swimming versus triathlon swimmingimproving your techniqueskills to developtraining for endurancetraining for speedessential swim drills to masterpreparing your muscles for the swim legopen water swimfinish the swim leg strongrunning technique and how to prevent injury and run fastertraining for the run legcommon running mistakesfocusing on the correct formimportant running drills to practiceimproving your off-bike run performancecycling in a pack what to do and what not to doorganizing a group ridetraining rides and club ridesgroup cycling etiquettetransition - how to lay it out, what to bring and how to be effectiveyour checklistsetting upthe don'tsrehearseunderstanding triathlon nutrition and why it is key?how your body uses fuel in triathlonkey nutrition considerationstraining nutritionsuggested nutrition strategyracing nutritionrace day - what to look out for, how to prepare and what to expect?attend the race briefingreview the rulesreview your checklist or to-do listbefore the racerace daycommit to finishkeep goingit's you versus youtrust your training and have funand much, much more...
GRAB YOUR COPY TODAY!
Tags for: Triathlon Training Bible: A triathletes book covering the sports diet/food, techniques, gears, Ironman exercises & more
Citeste mai mult